National Take-Back Day is a safe, convenient, and responsible way to dispose of unused or expired prescription drugs.
The last Take-Back Day brought in more than 900,000 pounds of unused or expired prescription medication.
This brings the total amount of prescription drugs collected by DEA since the fall of 2010 to 10,878,950 pounds.
Check DEA's official Take Back Day website for more information and to find year-round collection sites near you.
Quiz: Test your knowledge on proper drug disposal.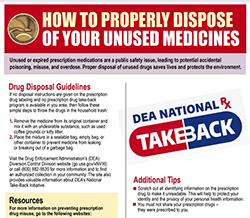 Learn how to properly dispose of prescription medication.
---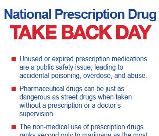 Check out these 'Take Back' day pamphlets in English and in Spanish.
More information on drug disposal:
http://www.fda.gov/ForConsumers/ConsumerUpdates/ucm101653.htm.
Watch the video, "Safe Medication Disposal" made by the Alliance for Aging Research, below:
Drug Take Back Locations within Arizona
Avondale Police Department
Katrina Armstrong
(623) 333-7217
11485 West Civic Center Drive
Avondale, Maricopa, AZ 85323
Buckeye Police Department
Laura Liuzzo
(623) 349-6410
100 N. Apache Road
Buckeye, Maricopa, AZ 85326
Chandler Police Department
Dan Chavarria
(480) 782-4870
251 N. Desert Breeze Blvd.
Chandler, Maricopa, AZ 85226
El Mirage Police Department
Lt. Franco Cammarata
(623) 500-3041
12401 W. Cinnabar Ave
El Mirage, Maricopa, AZ 85335
Fort Mcdowell Police Department
Sgt. Stephanie Beebe
(480) 789-7517
10755 N. Fort Mcdowell Rd., Ste. 3
Fort McDowell, Maricopa, AZ 85264
Glendale Police Department
Doreen Anderson
(623) 695-0440
6261 North 83rd Avenue
Glendale, Maricopa, AZ 85303
Maricopa County Sheriff's Office
Shannon Scheel 6023290878
(602) 876-1685
550 W. Jackson Street
Phoenix, Maricopa, AZ 85003
Mesa Police Department
Christina Hatton
(480) 644-2330
P.o. Box 1466<
Mesa, Maricopa, AZ 85211/td>

Paradise Valley Police Department
Evidence Tech Bill Becktold
(480) 348-3549
6433 East Lincoln Drive
Paradise Valley, Maricopa, AZ 85253
Peoria Police Department
Lori Sanda
(623) 773-5011
8351 West Cinnabar Avenue
Peoria, Maricopa, AZ 85345
Phoenix Police Department
Detective Justin Martin
(602) 908-0244
620 West Washington Street
Phoenix, Maricopa, AZ 85003
Scottsdale Police Department
Ofc Eric Bolles
(480) 312-5359
8401 E. Indian School
Scottsdale, Maricopa, AZ 85255
Tempe Police Department
Molly Enright – Pio
(480) 858-6148
Tempe Police South Substation, 8201 S. Hardy Dr.
Tempe, Maricopa, AZ 85284
Wickenburg Police Department
Kathryn Rogers-ordway
(928) 668-1563
155 N Tegner St, Suite C
Wickenburg, Maricopa, AZ 85390
Marana Police Department
David Danielson
(520) 382-2051
11555 W Civic Center Drive
Marana, Pima, AZ 85653
Oro Valley Police Department
Officer Sonja Hudson
(520) 229-5086
11000 N. La Canda
Tucson, Pima, AZ 85737
Pascua Yaqui Tribal Pd
Gary Ortega
(505) 452-6283
7777 S. Camino Huivism Rd.
Tucson, Pima, AZ 85746
Pima County Sheriff's Department
Deputy Daniel Jelineo
(520) 940-6486
1750 E. Benson Highway
Tucson, Pima, AZ 85714
Sahuarita Police Department
Tom Johnston
(520) 345-1303
315 W. Sahuarita Center Way
Sahuarita, Pima, AZ 85629
South Tucson Police Department
Commander Kevin Shonk
(520) 917-1582
1601 S. 6th Avenue
Tucson, Pima, AZ 85713
Tohono O'dham Nation Police Department
Norine Juan
(520) 349-8888
Police Rd & State Rte  86, Milepost 114 Building 64
Sells, Pima, AZ 85634
Tucson Police Department
Sgt. Jeremy Williams
(520) 971-6923
9670 E. Golf Links Rd
Tucson, Pima, AZ 85730